A blog for Nigerian girls featuring beauty, fashion, style, health, news focused on women, relationship, life advice, discussions, gossip and more. ALL THINGS FEMININE....
Wednesday, 7 June 2017
Our woman of the day is 92-year-old Harriette Thompson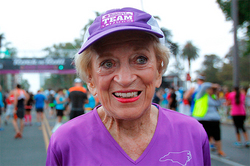 Harriette Thompson                                                                                  


 Harriette Thompson who is from Charlotte, North Carolina is the type of woman every woman should aspire to be like when they are in their 90's. Fierce, Healthy, determined, optimistic and courages.